Catholic Life of the School

We live to love, learn and follow Jesus who says, "Love one another as I have loved you."

At St. Margaret Clitherow Catholic School we believe and follow the teachings of Jesus Christ. We value and respect all;
growing and learning together as part of God's family, to be the best we can be. Our mission statement of "We live to

Love, Learn, Respect and follow Jesus who says 'Love One Another as I have loved you'" permeates all aspects of our school life.
The governors and staff of St. Margaret Clitherow Primary School recognise that they work to educate the children in their care in a range of ways, as the centre of this is the spiritual development of the children, particularly in the Catholic faith.

As part of the community of Catholic schools who work alongside the Catholic Church there is a clear purpose for the existence of St. Margaret Clitherow Catholic School.
It is the mission of all Catholic schools that we contribute to the 'common good' of our community and society as a whole in response to the Church's teaching on social justice.

When pupils join our school they become part of this community. Every day starts with an Act of Worship, we give thanks before lunch and we end the day with a prayer. We believe that Christ is at the centre of all we do and therefore we offer each child a broad, balanced and relevant curriculum of the highest standard to meet their spiritual, emotional, moral, intellectual and physical needs and to prepare them for the responsibilities of adult life.

The programme of Religious Education we follow is in line with the Catholic Directory as specified by the Bishops Conference of England and Wales. Religious Education is taught to all children in the school for a minimum of 10% of curriculum time, not including worship. It is considered central to the whole school curriculum. We follow key teachings from Catholic traditions that are taken from the RECD (Religious Education Curriculum Directory). Through this directory, the children are taught the basics of Catholic faith and morality, with constant reference to their own life experience.

We have excellent links with our parish church, English Martyrs, and the parish priest, Fr Albert Ofere, is a regular visitor to school. The school attends mass at English Martyrs on special occasions and a class attends mass on a Friday on a regular basis. The parish priest also celebrates mass and Liturgies at the school throughout the year including the special Tie-ing in Assembly where our Reception children are officially welcomed to the school.

CLICK HERE TO FIND OUT ABOUT PUPIL CHAPLAINCY

For worship based on the weekly Gospel click here
For resources on saints which link with the liturgical year click here
COLLECTIVE WORSHIP RESOURCES
For our latest Gospel reflection, please click below
LITURGIES/MASSES - Spring 2nd 2023
This term we will be celebrating the following liturgies:
School Dates

Wednesday 22nd February – Lenten Liturgy for Ash Wednesday

Wednesday 1st March - Year 2 Liturgy for the feast of St David – Own clothes

Friday 10th March – Year 3 going to mass at English Martyrs

Monday 27th March – Mass for the feast of St Margaret Clitherow

Friday 31st March - Wear something yellow and bring £1 in support of Marie Curie
Our School Chaplains
CARITAS IN ACTION
This year we are continuing our special programme of Catholic Social Teaching. Catholic Social Teaching is based on the belief that God has a plan for creation, a plan to build his kingdom of peace, love and justice.
It holds that God has a special plan for every single one of us, whoever we are. Our part in this plan isn't just limited to things 'spiritual', or times when we do "religious things." It involves every aspect of our lives, from the things we pray about, to how we live as a responsible global citizen.
Our part in this story is a kind-of vocation for the common good, a call to treat everyone as our brothers and sisters. It is something that we all share.
Our theme for this term is "Stewardship" which will be covered in Spring Term 2.
We are called to be stewards of creation. The world was made by God, so we take care of all creation.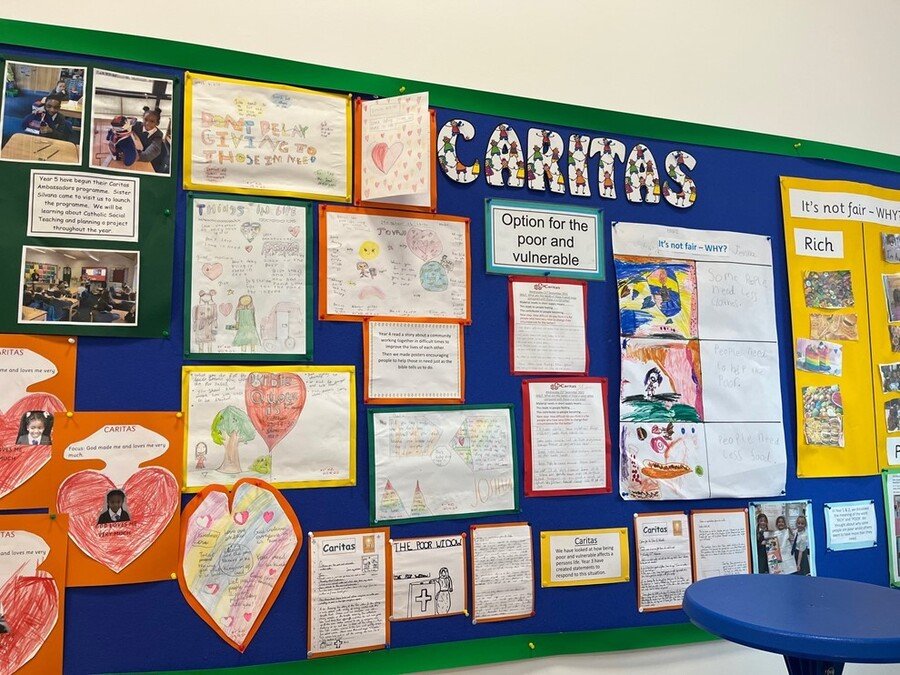 CLASS SAINTS
Every class has their own class saint. On the feast day of their saint (or the closest day possible)- they will have a special liturgy and be allowed to wear their own clothes. You will be given further details of this nearer the time.
Reception - St Francis of Assisi
Year 1 - St Patrick
Year 2 - St David
Year 3 - St Andrew
Year 4 - St George
Year 5 - St Vincent De Paul
Year 6 - St Martin de Porres
PRAYER CYCLE
During Lent we are asked to pray for these intentions:
Candidates for the Sacraments; Women; The Needy and Hungry of the World; Penitents and Wanderers.
IMPORTANT DATES THIS HALF TERM (Spring 2nd 2023)
| | |
| --- | --- |
| 22nd February | Ash Wednesday |
| 27th February | Day for the Unemployed |
| 1st March | St David |
| 11th March | Lent Fast Day |
| 17th March | St Patrick |
| 20th March | St Joseph |
| 25th March | The Annunciation of the Lord |
| 26th March | St Margaret Clitherow |
| 9th April | Easter Sunday |
| | |
| | |
| | |
CARITAS AMBASSADORS
Our Year 5 children have been participating in the Caritas Ambassadors programme. Caritas Ambassadors is a programme for both primary and secondary schools created by Caritas Westminster. It aims to equip pupils with a strong understanding of Catholic Social Teaching and how we can put it into action in our daily lives.
The programme runs through six key themes of Catholic Social Teaching and helps the trainee Ambassadors to think about social justice issues in their local community, before taking them through responding by developing and running their own social action project. It also introduces them to the work of Caritas Westminster, offering practical examples of how we use Catholic Social Teaching to influence our work.
The Caritas Ambassadors become leaders of social action in their school, and responsible for sharing what they have learnt with those around them. They can share the work of Caritas Westminster with others, but especially share their increased understanding of the issues faced by their local community, and how they and their fellow pupils can address these to create a fairer society.
The programme focuses on the group developing their own ideas, and taking responsibility for creating and running their social action projects themselves. It guides them to use the Give, Act, Share, Pray model to design their project, looking at how they can give their time and skills to act to support those in need, and sharing this work with others through awareness raising and prayer. Year 5 have focused on a project around "Care for creation".
Year 5 recently went on a litter pick and presented an assembly to the rest of the school. We have worked with the council and Veolia to make a difference in our local area.
Eco-Schools Green Flag Accreditation
We are delighted that our children have been accredited with the Eco-Schools Green Flag. Eco-Schools is a charity passionate about engaging young people in environmental education and action. Eco-Schools operates in 70 countries and engages 19.5 million young people globally. This makes Eco-Schools the largest educational programme on the planet.
The programme:
inspires and empowers pupils

raises environmental awareness

improves the school environment

creates financial savings

involves the whole school and wider community in environmental projects – and most importantly it engages the youth of today to protect the planet of tomorrow.